mikiGREEN Outdoor.Mobile.Toilette.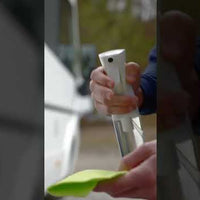 mikiGREEN Outdoor.Mobile.Toilette.
Microbiological concentrate for cassette toilets, pipe systems and tanks. One bottle makes 12 eco-friendly fills. Odor substances and deposits are broken down thoroughly and sustainably. The positive effect unfolds in the entire sewage system.
With mikiGREEN® Outdoor.Mobile.Toilet you are finally really sustainable. Our natural.power.active ingredient liquefies without any chemicals whatsoever. faeces, removes deposits and neutralizes unpleasant odours. In this way, mobile toilets, gray water-carrying tanks and raw systems in mobile homes, cabins and boats are reliably cleaned and cared for. Due to its purely natural, microbiological formula, the additive protects the water and is also ideally suited for bio-sewage treatment plants. You can find more application examples in our counselor.
500ml highly effective cleaning concentrate. One bottle is enough for 12 applications. Mixing and application are described on the label.
Ingredients: Active microbial cultures in a nutrient solution with vegetable and mineral
Substances, organic acids and <5% non-ionic surfactants. Natural citrus-lime scent.
Durability: See imprint, 6 months after opening. Store at 5-20°C in a cool and dark place. Use up the finished mixture within 3 weeks if possible.
Hints: Do not mix with other products.
Sustainability: 100% eco-friendly and biodegradable in a few weeks. Also suitable for biological sewage treatment plants. Completely safe for humans, animals and nature. Free from preservatives, alcohol and microplastics. Bottle recyclable. Developed without animal testing.

The shipping fee in Germany is EUR 4.99 per shipment. From a goods value of 50.00 euros, shipping within Germany is free of charge, i. H. it is free for you. The delivery time is about 1-7 working days depending on the destination country. orders up to 12.00 p.m. we usually ship the same day, but currently only within the EU. Please note that we are currently not able to ship to packing stations, but only to postal addresses. All Prices, which you can see on our individual product pages, already include the statutory VAT.
Outdoor.Mobile.Toilet. is - like all mikiGREEN® products - absolutely environmentally friendly and was developed without animal testing. In a few weeks it is completely biologically degraded and thus protects the water bodies. The concentrate is free from preservatives, alcohol and microplastics. Therefore, the application of Outdoor.Mobile.Toilet. absolutely safe for humans, animals and nature. The empty bottle is 100% recyclable and is simply disposed of in the recycling bin.