mikiGREEN Limescale away. bathroom & kitchen.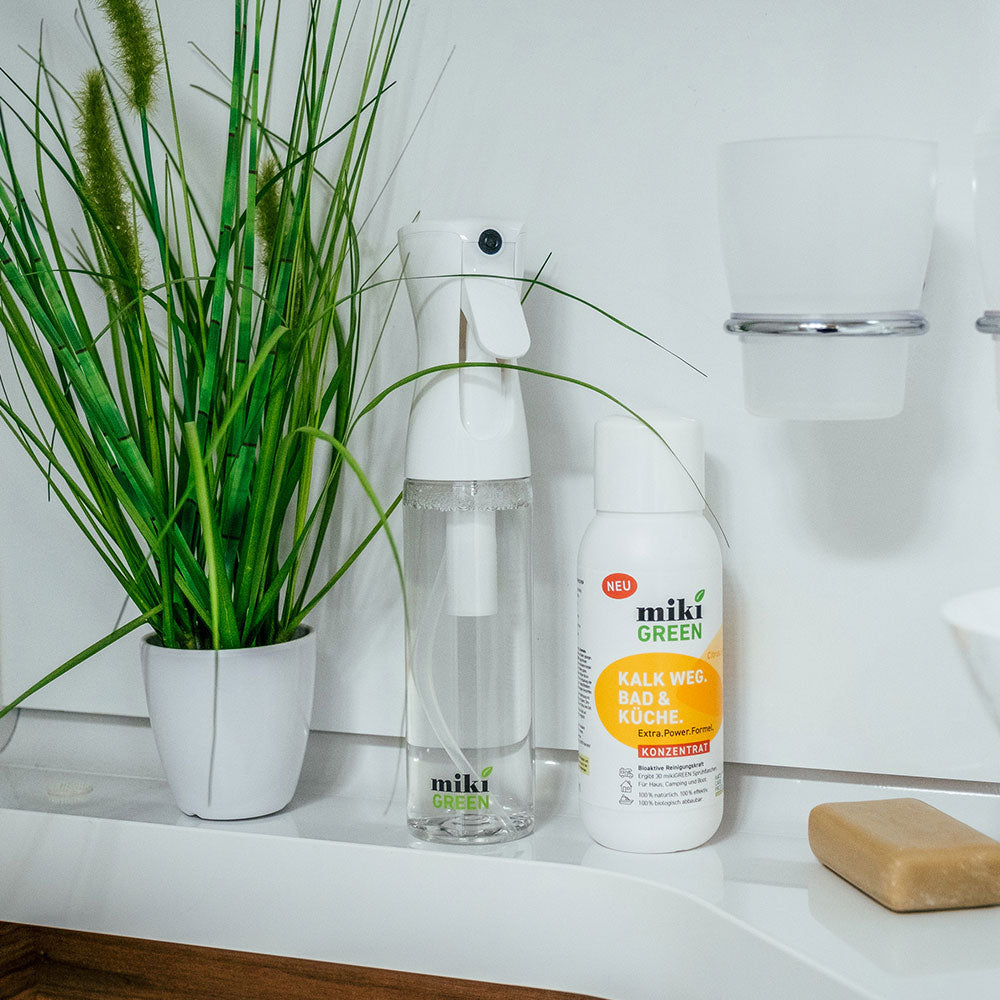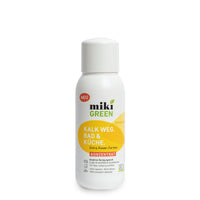 mikiGREEN Limescale away. bathroom & kitchen.
Microbiological Extra.Power.Formula. for the bathroom and kitchen at home and on the go. For mixing in the mikiGREEN® spray bottle. Thoroughly and permanently removes deposits on glass, tiles, stainless steel, ceramics and many other acid-resistant surfaces. As a concentrate, it is particularly economical and economical.
The mikiGREEN® Extra.Power.Formula. was developed to remove stubborn limescale and dirt deposits at home and on the go in no time at all. The powerful concentrate is simply mixed in the mikiGREEN® spray bottle and sprayed on. Without vigorous scrubbing, it cleans surfaces made of acid-resistant materials such as glass, tiles, ceramics and more. Joints and hard-to-reach areas are also hygienically clean and sparkling clean powerfully and gently. You can find more application examples in our counselor.
300ml highly effective household concentrate. One bottle gives 9 liters of ready-to-use cleaner. Mixing and application are described on the label.
Ingredients: Active microbial cultures in a nutrient solution with vegetable and mineral
Substances, organic acids and <5% non-ionic surfactants. Natural citrus-lime scent.
Durability: See imprint, 6 months after opening. Store at 5-20°C in a cool and dark place. Use up the finished mixture within 3 weeks if possible.
Hints: Do not mix with other products.
Sustainability: 100% eco-friendly and biodegradable in a few weeks. Completely safe for humans, animals and nature. Free from preservatives, alcohol and microplastics. Bottle recyclable. Developed without animal testing.
The shipping fee in Germany is EUR 4.99 per shipment. From a goods value of 50.00 euros, shipping within Germany is free of charge, i. H. it is free for you. The delivery time is about 1-7 working days depending on the destination country. orders up to 12.00 p.m. we usually ship the same day, but currently only within the EU. Please note that we are currently not able to ship to packing stations, but only to postal addresses. All Prices, which you can see on our individual product pages, already include the statutory VAT.
lime away. bathroom & kitchen. is - like all mikiGREEN® products - absolutely environmentally friendly and was developed without animal testing. In a few weeks, the Extra.Power.Formula. completely biologically degraded and thus protects the water bodies. The concentrate is free from preservatives, alcohol and microplastics. It is therefore absolutely harmless to humans, animals and nature. The empty bottle is 100% recyclable and is simply disposed of in the recycling bin.